Watts back for more Magic
After a breakthrough season with the Magic in 2012, Australian import Khao Watts is delighted to be back for a second campaign.
Last year the South Australian rookie, who paid her own way to attend Magic's final pre-selection trial, continued to blossom after being thrust into the challenging wing attack role.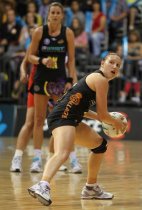 A prominent contributor in Magic's run to the ANZ Championship title, Watts couldn't wait to rejoin the side, touching down in early January and quickly getting reacquainted.
``You don't realise how much you miss everyone until you come back…..it's been really lovely spending time with them all again,'' she said.
We had our first official week of training after the New Year starting on January 7 with everyone looking in good shape and raring to go.''
With the ability to play all three midcourt positions, Watts is hoping to further develop her growing arsenal at wing attack as Kia Magic look to defend their title in 2013.
``I loved my spot there and would like to go back there this year,'' she said. ``You always need to keep adding to your toolbox otherwise people will figure you out way too easily, so I've been working hard over the off-season to add to that, and really get a better understanding of the wing attack position.''
Watts will be based with Waikato NPC coach Rebecca Gabel in Hamilton.