Lucky break for rookie shooter
Missing out on the Auckland NPC team has proved a blessing in disguise for Kia Magic newcomer Kendra Falefitu.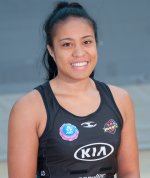 Gaining a lifeline with Bay of Plenty Gold at the national championships, shooter Falefitu made the most of her opportunities, eventually being chosen with fellow Auckland teenagers Nadia Loveday and Jaime-Lee Price as the youthful new talent being introduced to the Kia Magic ranks.
With squads now able to carry 14 players, Kia Magic were quick to make the investment in the three rookies who will be immersed in the professional environment with a view to keeping the succession plan ticking over.
``My club coach rang and said the Bay team were down a shooter, so I just went down and had a little run around with them at their training,'' Falefitu said.
The Kia Magic selectors obviously liked what they saw, the 19-year-old left in a state of disbelief with her rapid change in fortunes that now sees her rubbing shoulders with the elite of the sport.
``I was really shocked after the year I had,'' an understated Falefitu said.
It's been a whirlwind few months but the former Auckland Girls Grammar student is taking it all in her stride and enjoying the step up.
``The trainings are intense but they're really fun,'' she said. ``The girls are real nice and just real welcoming.''