'Magic' shoe fitting for Hamilton netball player
A Hamilton netball player has had a 'magic' experience, spending time shoe shopping with Kia Magic co-captain Casey Kopua as part of a Drive Sober campaign.
The Kia Magic supporter won the opportunity to be fitted with a new pair of sports shoes, with the help of a Kia Magic netball player and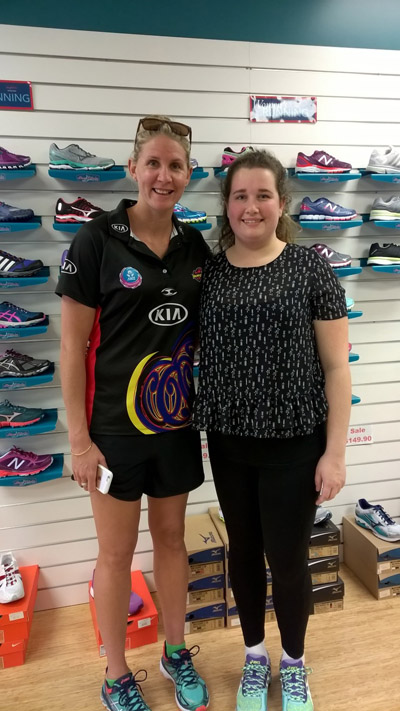 prize sponsor Shoe Clinic Hamilton.
To enter, Waikato people had to share their best sober driving tip, with winner Hannah Southgate-McNeil being randomly selected from a large number of competition entries.
Ms Southgate-McNeil's tip was: "Have spare cash at home for an emergency taxi and take turns sober driving with your partner and shout them fizzy drink."
Casey Kopua joined the 24-year-old Marist club player in Hamilton yesterday for the shopping experience – the penultimate prize in an intensive two week 'Reduce the Risk' road safety campaign on Instagram.
Over the two weeks there had been a number of opportunities to win Drive Sober and Kia Magic collectables by sharing sober driving tips and experiences.
"I'm really grateful for this opportunity. As both a netball fan and player this is an exciting and useful prize. It is also great to be able to support reduce the risk and promote safe and sober driving," said Ms Southgate-McNeil.
Kopua has helped promote the road safety campaign since it was launched in 2013. "It's great to be part of a campaign like Drive Sober. Things like this can make a real difference."
About Drive Sober
Drive Sober was launched in 2013 by the Waikato Regional Road Safety Education Group in partnership with the Kia Magic netball team to make sure drivers understand the importance of driving sober to protect themselves and their whanau from serious harm.
The awareness campaign hopes to reduce drink-driving crashes across the 'Magic zone' in Waikato, Bay of Plenty and Gisborne.
"It's been really great to have the Kia Magic team strongly support this campaign on Instagram and promote the drive sober message to their fans," said Waikato Regional Council road safety coordinator, Monique Haines.
Mrs Haines said the campaign had trebled the number of followers on the newly-created @reducetherisknz Instagram page.
Follow Reduce the Risk on Facebook and Instagram @reducetherisknz to hear about more road safety campaigns and opportunities to win.
The Waikato Regional Road Safety Education Group is led by Waikato Regional Council, working with the NZ Transport Agency, NZ Police and key road safety stakeholders. For more information about the group's work, visit
www.reducetherisk.co.nz
.