Kopua seals her one club future
In a unique twist on the 'one-club' relationships that rarely occur in modern sport, Casey Kopua and Netball Waikato Bay of Plenty have further cemented their already long-term partnership with an open end to working together.
The development not only seals the Kia Magic icon as a one club player, but also paves the way for Kopua to seamlessly transition to an off-court role when she decides to bring an end to her illustrious playing career at some stage in the future.
"I love playing for the Magic – I've only ever wanted to play for this team and now know that will always be the case," said Kia Magic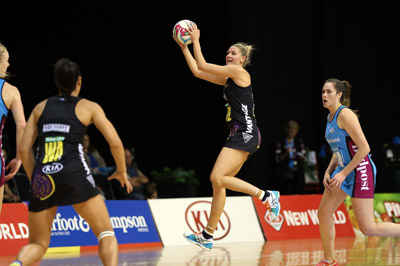 Captain Casey Kopua.
"It meant a lot to be the first ANZ Championship player to reach 100 games for the one team and it's great to know I'll play my whole career for just one team.

"Reaching the 150 game milestone would also be awesome, and now that the World Cup is over it's time to reset some goals, and that's one I'd like to achieve.

"There's so much young talent in our squad and I really want to be part of the bright future I know we have as a Magic team.

"Also knowing that I can potentially step straight into an off-court role with Netball Waikato Bay of Plenty when I do eventually decide the time is right to hang up the bib, is something that really sets this organisation apart."

Netball Waikato Bay of Plenty CEO, Tim Hamilton expressed his delight that Kopua would continue to be the heart and soul of the Kia Magic and involved with Netball Waikato Bay of Plenty.

"Casey Kopua and the Kia Magic go together like a swandri and gumboots so we're delighted to have secured the long-term services of a true icon of the game both on and off the court," said Tim Hamilton.

"There's a unique sense of family here at the Kia Magic and Netball Waikato Bay of Plenty and Casey has been instrumental in fostering that.

"She's been tremendously loyal, which is quite rare in sport these days, and we're doing something very special in return through this unique arrangement."