Leana de Bruin to join 100 club
Media Release
10 March 2015
Kia Magic Co-Captain Leana de Bruin is set to join a select group of players to reach 100 ANZ Championship games, when she takes the court against the Vixens in Tauranga on Sunday.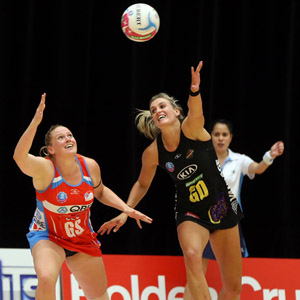 During her stellar career to date the 1.90m Silver Fern has not only collected an ANZ Championship title, but a string of accolades including; 2012 Grand Final Player of the Match, 2011 joint MVP and 2011 All-Star Team member.
Coach Julie Fitzgerald is one who certainly knows the significance of the milestone and value the classy defender brings to her side.
"I think in this level of competition, to have played 100 games and to have been able to sustain your level of performance for the length of time required to reach that milestone, is a tremendous achievement."
"I'm particularly delighted for Leana because she's such a key part of the Kia Magic and someone we couldn't be without, especially given the amount of injuries we have to our experienced players at present," added Fitzgerald.
Netball Waikato Bay of Plenty is urging fans to get along to the match on Sunday at 7:10pm at the ASB Arena in Tauranga so they can show their appreciation and support to Leana De Bruin and the team. Tickets can be purchased through Ticketek.
As was the case at last night's match against the Swifts, there will be plenty of activities for the crowd to enjoy on top of the netball action.
Quarter-time ANZ Championship entertainment will be provided by the wobble pass, where two teams of two will take the court to win cash.
Kia will again give some fans the chance to win at half-time with the cash grab. To be in with a shot, fans need to be successful in shooting a hoop attached to a Kia Magic branded Sportage outside the stadium before the game.
At three-quarter time, the Hits slingshot will fire T-shirts to sections of the crowd making the most noise, one of which will contain a cash prize.
Lucky season pass holders will deliver the ball and toss the coin, Drive Sober will utilise the big screen, while mascots will also keep fans entertained, with the team's mascot Monzee, joined by Mother Earth's Basil McNuts.